>> Tuesday, June 30, 2009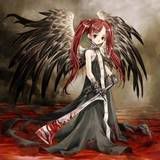 It is a little before noon here in Toledo Ohio and I am still working on dropping my 300 cards for Entrecard. It might help if I didn't stop to read so much stuff, but then what would be the point. I have been moving around widgets and clicking Adgetize buttons too. I am thinking my Dark Novels site needs a tune up. That will have to come a little at a time.

I have a guest post to work on after I drop my cards I have 212 but wanted to max them out. I am looking to drive more traffic. Even if only a few become followers of my blog, it will help with making a little money with my advertising stuff.

So other than that, today I have been doing laundry and playing around on my Pet Wars game that my awesome husband found, for my iPod. I have quickly become addicted. He also wants me to earn some achievements in his Viva Pinata game but I am afraid I will loose the rest of the afternoon if I start that. I loved the first game as silly as it was I couldn't put the controller down.

I also have a person from the gas company meeting me at the duplex sometime before four. That means I can't get on the treadmill because I know about the time I get all sweaty they will call. If they call early enough I can get on when I come back.

I would like to invite anyone who cares to help me with my editing. I will be going back through old posts and fixing mistakes. Mostly the book reviews and profiles I am not so worried about my silly life posts. I realize I post in a hurry sometimes (like right now) and miss grammar and spelling mistakes. So if you just love to tell people how many mistakes they have made leave me some comments so I can correct it.

By this time next week my goal would be to have the book reviews up for the 3rd Cassandra Palmer book and the Audio book I just finished Cry Wolf.